** THE "Thor Wild Cactus" : **
** SOME ATYPICAL **
** SCHLUMBERGERA **
____________________
CHAPTER 1
The "Thor Wild Cactus".
Page 2
The young floral buds had monstrous shapes with tubular petals, as is sometimes the case with Schlumbergera "Star Burst" or what some growers call "x Hatbergera" (crosses of Schlumbergera and Rhipsalidopsis, formerly Hatiora).

But as it turns out, only one x Hatbergera with flowers is documented by Boyle.

It is therefore doubtful whether we are dealing with mutations (natural or artificial by chemical process or irradiation) of Schlumbergera unless they are virus-infected plants. Some of similar plants are native to Japan.

Over several days, I thus noticed the presence of tubular petals clearly visible on the pictures on this page. I was delighted to see these unusual shapes and wondered what the fully blooming flowers would look like.

White flower buds
White flower bud
Pink flower bud (pot number 1)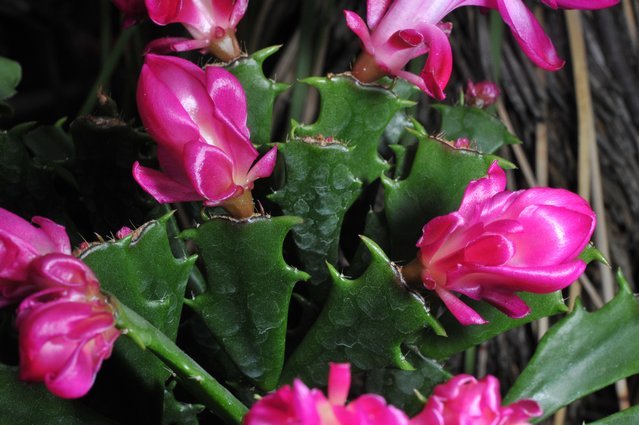 Pink flower buds (pot number 1)
Pink flower bud (pot number 2)
I thought I had bought Schlumbergera in two colors: white and purplish pink.
___________________________________
_________________________________________