*** HISTORY OF SCHLUMBERGERA ORSSICHIANA ***
*** AND ITS HYBRIDS ***
page 2 / 3
2) THE DISCOVERY OF SCHLUMBERGERA ORSSICHIANA AND ITS PROPAGATION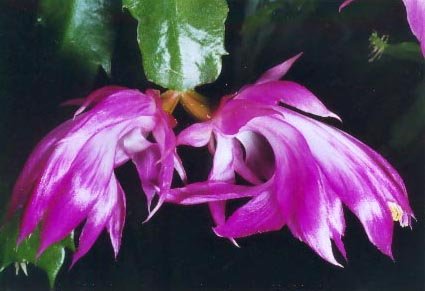 Schlumbergera orssichiana in bloom in my collection
N.B. The photos of this page are from my collection.
The text of this part is the translation of Eckhard Meier's article : "Die Schlumbergera orssichiana Story" published in "Kaktusblüte" in April 2006.

I warmly thank him for allowing me to publish this translation and will now let him speak for himself.

In the 1970s, Countess Beatrix Orssich, from Teresopolis close to Rio de Janeiro, paid a visit to a friend, a prospector of orchids, who had just come back from a gathering in Serra do Mar, above the coastal town of Parati and had shown her some samples of the plants that he had brought back. In answer to the question of what he could offer her, she opted for a small branch of four or five phylloclads of what could be Schlumbergera truncata but which she found to be different from the other Christmas cacti of this area. That was the beginning of a thrilling story.
The small plant (Clone 1) was grafted on Hylocereus undatus and bloomed very quickly with a completely unusual blooming for a Schlumbergera : it had white blooms with a sharp pink edge, zygomorphic, large and very open, but, contrary to all the already known Schlumbergera blooms, its external petals were ordered in an odd way: they weren't folded up towards the outside, but opened like an umbrella on the flower, it was impossible to observe the inner par of the bloom.
Mrs Orssich sent cuttings to Professor Rauh, Director of the Institute of Botany at the Heidelberg University and to his assistant Doctor Barthlott, who voiced the assumption that it was an unknown species. That was confirmed after the blooming of the plant in Europe, but one couldn't exclude the assumption of a hybrid because it was surprising to have found an unknown Schlumbergera in an area which had been studied a lot since the first Europeans had arrived on that continent. Thus they asked Mrs Orssich to look for other wild specimens. What she found took the name of Clone 2 : it grew on a rock covered by moss and was different from Clone 1 because of its smaller and less notched stems, and of a lighter green color, but the flower and the fruit were so similar to those of Clone 1 that there could be no doubt : it was indeed a new species. Barthlott and A.J.C. McMillan described it in 1978 in the "Cactus and Succulent Journal" by taking Clone 1 as a reference.

The characteristics of the new species are its plentiful stems, deeply notched, which may be 2 to 3 inches long and 1.8 inch wide. The blooms are 3.5 inches long, obviously larger than those of other Schlumbergera ; they appear at least twice a year at times when usually the other Christmas cacti don't bloom (February/March, August/September). The fruit whose size is 0.8x0.6 inch, is a berry with 5 or 6 yellowish green, almost white edges. Although Schlumbergera orssichiana has a vegetative appearance very similar to that of Schlumbergera truncata, it is different from the latter in quality by the color and the shape of the fruit, by the Schlumbergera russelliana-edged ovary,and by the length of the floral tube which, for this new species, is very short (not more than 0.4 inch).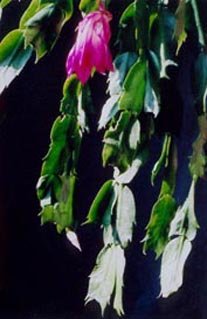 S. orssichiana : stem segments
S. orssichiana : ovary
Then Schlumbergera orssichiana was a plant much looked for by the few cacti lovers who were interested in this genus, but we have to notice that only Clone 1 propagations were common in Europe. Its culture appeared difficult, even impossible in the long run. Later it was noted that all the plants were infected by a virus. It seems that the origin dates back to the time when the first shoots were grafted on Hylocereus, itself infected. Investigations showed that the viral infections in the rapid growing cacti are hardly visible and do not carry damage to these plants. As rootstock, they quickly become a virus transmitter and a solution to cure this hasn't been found.
In the 1980s, I received Schlumbergera orssichiana cuttings from my friend Ernst Ewald living in Hamburg (Clone 2) and which he had received from Mrs Orssich. This material was characterized by smaller flowers and stems also smaller, less deeply notched, and of a lighter green color. This clone wasn't common in Europe, yet. A little time before, I had received a Clone 1 cutting, and growing these two plants at that time didn't pose any problem. Problems came later. I didn't know then that the two clones had a viral infection. When the two plants bloomed simultaneously, I had the opportunity to get real fruits by crossing the blooms of the two plants (self-sterile). Both on Clone 1 as on Clone 2, many berries were formed after four months… But the plant's weakness became a permanent state whose cause was the virus. Repeating the described operation was out of the question.
I happened to learn from Dr. Rudolf Troster (Bad-Mergentheim) that an American specialist, Mrs Dolly Kölli, was interested in these fruits, because the descendants resulting from seeds withstand climate changes better and the viruses are not transmitted to the seeds. He hadn't succeeded yet in obtaining robust and healthy descendants by way of sowing. I was surprised to find a fruit that I had never noticed on my Clone 1 before. I sent it to America and Mrs Dolly Kölli used it to make a successful reproduction. The berry contained 48 seeds, of which 23 germinated but only 14 survived, thus all resulting from the cross-breeding of Clone 1 and Clone 2. Variations existed because of the difference in the parents but the uniformity inside this unit dominated. Currently, this reproduction accounts for the basis of all Schlumbergera orssichiana in circulation. Klaus Rippe who was able to keep the two clones alive in his greenhouses in Spain, made crossings and the seeds developed in America, thus giving typical and healthy Schlumbergera orssichiana, so that fears seeing the original material disappear dissipated.
Since then, there has been a great number of interesting crossings especially with Schlumbergera truncata, which are gathered under the name of Schlumbergera x reginae McMilllan and Orssich. Among all the hybrids, the Schlumbergera orssichiana influence dominates so that the differences between the species and the hybrids are not perceptible for the little specialized lovers. Dolly Kölli found one method to distinguish them, but it requires the observation of a longitudinal section of the corolla and of the color zones of the petals basis : when one makes a longitudinal incision of the flowers, a violet serrated line appears (on S. orssichiana and mostly of its hybrids). Among genuine S. orssichiana, this drawing is made of long and pointed triangles while among all hybrids, the triangles are shorter and less pointed, going even to a vaguely corrugated line in the case of Schlumbergera truncata (see below the examples of S. orssichiana and two of its hybrids)
serrated line of S. orssichiana (left) vs. line of the l'hybrid S. x "Bristol Amber"(right)
serrated violet line of S. x "Chiba Princess"
It's obvious that a breakthrough as remarkable as Schlumbergera orssichiana interests not only science, but also cacti lovers. The large slightly undulated stems, more or less notched, may be appreciated, even apart from the blooming moments, flowers which are enormous and numerous for Christmas cacti, are a real show which can fill each one with enthusiasm. However, this species did not make it through. For most cacti lovers, epiphytic ones are not their centre of interest. Plant sellers for whom Christmas cacti have some commercial value, are not interested either. The plants take too much room so that few specimens can be put on sale. Their expensive cares aren't profitable, even impossible for Schlumbergera orssichiana.
Thanks to the existence of not virally infected plants, it's easy to durably preserve the species: by vegetative propagation or sowing. But growing isn't easy for beginners. As the plant originates from a tropical-subtropical area, too high temperature variations should be avoided : in summer up to 77°F, in winter not below 57°F. That is possible indoors in a clear location, but direct exposure to the sun must be avoided. An outdoors growing during the summer in a location sheltered from the rain and a few hours of morning sun is also profitable. Watering is also a delicate matter. The plants have fragile roots and react to water excesses by rotting, in particular during the cold season. One can fight this brittleness by using a very aerated soil. Recently I successfully used coconut fibre sold in briquettes form and which can be used by adding great quantities of water. The coconut fibre, despite its good ventilation and its stable structure retains moisture longer than the peat, so that one must sprinkle much more lightly. As epiphytic and lithophytic plants don't root in the ground and absorb water only by the moisture of the rain, they are sensitive to too hard or mineralized water. Thus, the basic rule is to use "soft" water as rainwater. From time to time it's preferable to add a fertiliser in weaker concentration than for other plants, if one uses coconut fibre which is low in nutritive elements.
(end of Eckhard Meier's article.)
Personal additional details : To finish I would like to say that other Schlumbergera orssichiana hybrids were created by the EPRIC Foundation. They are hybrids between S. russelliana and S. orssichiana; they are gathered under the name of Schlumbergera x epricae Süpplie.
The directory of all the hybrids S.x reginae and S.x epricae, written by Frank Süpplie and published in the "Cactus and Succulent Newspaper" in 2005 lists 75 "Queen" hybrids.
All these hybrids are called "Queens" because Beatrix Orssich said by looking at them : They are "Queens", and thus the word "Queen" is present in the first hybrid published by McMillan in literature: Schlumbergera x "Queen Bristol-Queen" (see photo in the gallery of page 3/3). This hybrid was followed by many others, with often the word "Queen" used in their name.
Currently (2017), it's quite difficult to buy Schlumbergera orssichiana and its hybrids from european growers.
________________________________________________________________
PART 1: BRIEF COME BACK ON HISTORY OF SCHLUMBERGERA
PART 3: THE PHOTO GALLERY OF MY "QUEEN" HYBRIDS
PHOTO GALLERY OF ALL MY CHRISTMAS CACTI FROM 2002 TO 2009
___________________________________________________________________________________
Bibliographic sources:

1) "Christmas Cacti, The genus Schlumbergera and its hybrids", written by A.J.S. McMillan and J.F. Horobin, published in 1995 by David Hunt and Nigel Taylor, Royal Botanic Gardens, Kew.
2) "Die Schlumbergera orssichiana Story", article written by Eckhard Meier and published in April 2006 in the review "Kaktusblüte"
3) "The Schlumbergera Queens", article written by Frank Süpplie and published in the review "Cactus and Succulent Newspaper" issue 77, Number 5, 2005 September-October.

___________________________________________________________________________________________________