***** MY VISIT TO KAKTEEN HAAGE ****
** the most ancient European cacti nursery **
(page 1/4)
As I'm always looking for new plants, I downloaded, some weeks ago, the catalogue of Kakteen Haage, a German cacti grower. I discovered an amazingly rich catalogue, especially concerning epiphytic cacti.
I placed an e-mail order, and I received healthy plants. Then I decided to go and visit the nursery, located in Erfurt, in ex-East Germany. In fact, I also wanted to discover a country where I'd never gone to.

ERFURT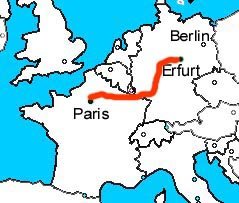 Erfurt city is approximately 850 kilometers away from Paris, driving almost only on motorways ; thus it's necessary to drive between 8 and 9 hours, due to the fact that speed limitations don't exist on the German motorways.
Erfurt has nowadays 200.000 inhabitants, and is the capital of the Thuringe district. It's a very old city and also an important historic city, since first main monuments there (the cathedral for instance) were built in the 12th century.

Erfurt cathedral and church medieval district houses

Martin Luther studied law at Erfurt's University and Johann Sebastian Bach's parents got married in this city.
Erfurt was, and still remains, a cultural, industrial and commercial city. Its medieval centre is splendid, with its half-timbered houses. People in the streets are very friendly and also relaxed.
But let us return to cacti : the industrial horticulture started in Erfurt in the 18th century, particularly with Haage nursery building ; this nursery is the most ancient in Europe.

HISTORY OF THE NURSERY MY VISIT IN THE NURSERY HOME PAGE
____________________________________________________