*** EPIPHYLLUM OXYPETALUM : ***
**** A COMPLETE CYCLE ****
**** OF SEXUAL REPRODUCTION ****
OR
** THE FRUIT OF « QUEEN OF NIGHT » LOVE LIFE. **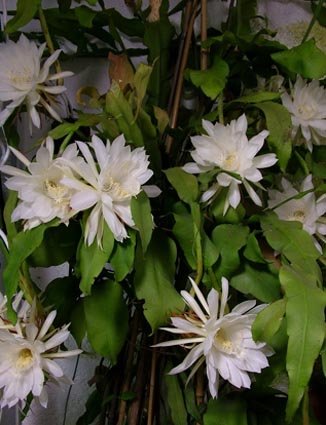 Epiphyllum oxypetalum : adult plant in bloom (photo taken by Michel Monnier)
Epiphyllum oxypetalum (etymology: "oxus": pointed, and "petalum": petal.) is an epiphytic cactus native to Central America and South America (Colombia, Venezuela, Brazil). It has flattened and lanceolate secondary stems on slender and cylindrical primary stems. It grows quickly when it's cultivated and reaches impressive size. It stands out because of its scented and spectacular blooming which lasts only one night.
According to the beauty of its blooms it's also called "Queen of night" and it's abundantly cultivated in the whole world, in particular in Asia where its blooming gives even place to ceremonies (see link at the end of the page). It's been mentioned in China since 1645.
Epiphyllum oxypetalum, like the majority of botanical Epiphyllum is self-sterile, i.e. that to obtain fruits and seeds, it's necessary to pollinate two flowers coming from two different clones. Thus, it's necessary to have two different clones of the plant to obtain fruits and seeds ; the propagation by cuttings (vegetative reproduction), produces plants which are the same clone, and therefore inapt to be fertilized one by the other.
The reproduction by sowing (sexed reproduction), makes it possible to obtain as many clones as seeds sown and successfully cultivated. Thierry Lefort, a friend of mine, proceeded with the pollination of two different clones of Epiphyllum oxypetalum; he obtained fruits and he communicated the photographs of these fruits to me. He even gave me one fruit. I sowed this fruit and followed up the growing process for two years, the plants being then quite adult. It is the result of all these operations which I propose you to see, by entering a succession of photographs with accompanying notes.
ENTER THE SUCCESSION OF THE PHOTOGRAPHS
____________________________
________________________________________________________________________________________________