EPIPHYTIC CACTI IN THEIR BIOTOPE
*********
RHIPSALIS CEREUSCULA
_________________
Epiphytic cacti indicates those of cacti which, in their biotope, grow as epiphytes (from the Greek epi : "on" and phuton : "plant"), i.e. grow on other plants, without drawing their food from it, contrary to parasitic plants.
__________________
GEOGRAPHICAL DISTRIBUTION OF THE BOTANICAL SPECIES
All the botanical species are in the New World except some Rhipsalis that occur also in the Old World.
Rhipsalis of the Old World would have been introduced there thanks migratory birds at the time when the distance between the continental plates was still relatively reduced.
But this assumption does not rest on any serious proof. Another assumption is advanced: Rhipsalis would be a primitive genus appeared towards -130 million years in the west of Gondwana (southern part of Pangea). Africa and South America were not yet separate. If one observes the map of emerged grounds at that time, one realizes that all the current locations of the Rhipsalis genus were very close from each other, whereas Australia, although it offers favorable areas to the Rhipsalis presence, was already far from the current locations ; but there is no Rhipsalis in Australia.

HABITAT
Epiphytes (cacti and others) grow on tree trunks or branches, sometimes choosing recesses containing decaying substances.
Contrary to other plants like mistletoe, epiphytes are no parasites i.e. that they do not draw their nourishment from the sap of the tree on which they grow. The tree is useful only as a support of sustenance.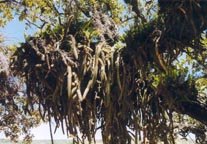 APOROCACTUS CONZATTII IN THE SITE OF CINEGUILLAS (MEXICO)