** SCHLUMBERGERA **
** CHAPTER 1 **
** HISTORY, TAXONOMY **
____________________
We are going to talk about them again by trying to address some botanical, historical and taxonomic points.

CHRISTMAS LASTS A REALLY LONG TIME

As my greenhouse is not expandable, it is difficult for me to always present new species or hybrids. I therefore had fun photographing all the Christmas cacti that have bloomed during the winter 2019-2020, by chronologically marking the dates of their flowering from the beginning of October 2019 to mid-March 2020.

As you can see, the Christmas holidays are particularly long at my house. (about 6 months)

This begins to raise questions about the terminology "Christmas cactus".

The Anglo-Saxons of the New World, more fussy than us, speak of "Christmas Cacti" (literally "Christmas Cactus"), but also of "Thanksgiving Cacti" for those that bloom around Thanksgiving.
Thanksgiving, or Thanksgiving Day, is a harvest festival celebrated in Canada, the United States, some Caribbean islands and Liberia. Thanksgiving is celebrated on the second Monday in October in Canada, the fourth Thursday in November in the United States, and during the same period of the year in other countries.

Between the second Monday in October and Christmas, about two and a half months pass. We are closer, but still a long way from the flowering period of about 6 months in my collection.

So, how to shed some light on all this. Christmas Cacti, (and there is no such thing as a REAL Christmas cactus and FALSE Christmas cactus) are all botanical species and their hybrids, of the genus Schlumbergera (formerly called Zygocactus, but this last term is still a thorny point which I will come back to in this page). Nothing will be spared, unless of course you skip the page, which I can understand!

BOTANICAL SCHLUMBERGERA IN THEIR BIOTOPE

If we refer to the most recent sources of taxonomy (phylogenetic taxonomy), the genus Schlumbergera comprises 7 species and one subspecies. At least two species are not zygomorphic flowering. The hundreds of hybrids that have been obtained come mostly from crosses between 4 species, or even 3 for the hybrids in my collection presented in the gallery that follows.
geographical distribution of the genus Schlumbergera

The Schlumbergera live as epiphytic or epilithic plants in the mountains of southern Brazil, parallel to the coast.
Atlantic, in the regions of : Espirito Santo, Minas Gerais, Rio de Janeiro (southern hemisphere).

biotope of Schlumbergera
Photo taken near Nova Friburgo (Brazil)
Schlumbergera russelliana in its biotope.
THE MOST COMMON BOTANICAL PARENTS

To simplify this page, I will only talk about 3 botanical species: Schlumbergera orssichiana, Schlumbergera truncata and Schlumbergera russelliana.
This will enlighten us on the "6-month Christmas".

1-SCHLUMBERGERA ORSSICHIANA
S. orssichiana (named after Beatrix Orssich who participated in its discovery) was recently discovered in 1978. Here is the appearance of its stems and flowers. It is the earliest with flowering
at the end of August and during September in the Northern Hemisphere
Stems of S. orssichana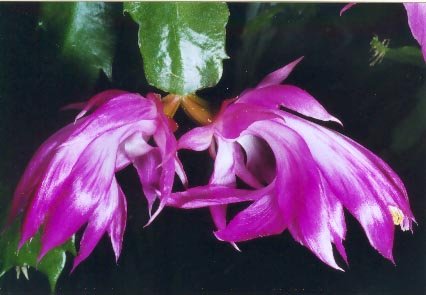 Flowers of S. orssichiana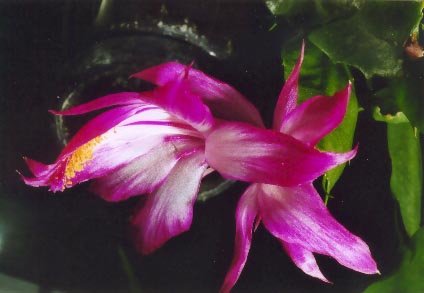 Other flower of S. orssichiana
You will notice on these photos that the stems are wide, strongly jagged...
and that the flowers have an angular ovary and an almost non-existent tube.
2-SCHLUMBERGERA TRUNCATA
S. truncata was the first Schlumbergera to be discovered. It is already mentioned in 1819. Here is the shape of its stems and the appearance of its flower. It flowers from October to November (in the Northern Hemisphere) and its flower is zygomorphic.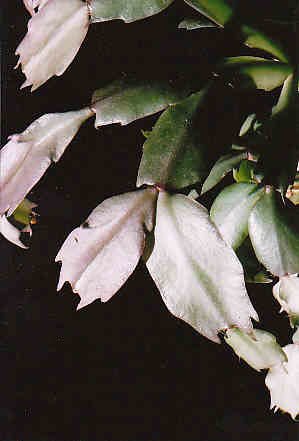 Stems of Schlumbergera truncata
They are serrated, hence the name "Crab Cactus".
Flowers of S. truncata
(Material by Beatrix Von Orssich, from Teresópolis)
The flowers are zygomorphic and the ovaries (not visible on this photo)
are rounded and not angular.

3-SCHLUMBERGERA RUSSELLIANA
S. russelliana was discovered in 1837. Here is the appearance of its stems and flowers which are not zygomorphic. It flowers in March in the Northern Hemisphere.

Stems of S. russelliana
The stem segments are rounded and small in size.
Each stem segments measures between 0.5 and 1.5 cm long.

Flower of S. russelliana
The flower is actinomorphic and not zygomorphic.

I have not mentioned some botanical species of Schlumbergera which are not included in the hybrids in the following photo gallery.


THE FIRST HYBRIDS
The first hybrids created were the x buckleyi hybrids (around 1850), crosses of S. russelliana with S. truncata. They are what the general public considers to be the TRUE Christmas cactus.
They flower around December and January. They are the "Christmas cacti" of our grandmothers.
Here is a picture of a x buckleyi
Schlumbergera x buckleyi
Here I have given you the basis on which the majority of all the successive hybrids (more than 1000 hybrids) were created. If you look at the different flowering dates,
now you can see why the hybrids flower for about 6 months depending on their pedigree.
The first botanical ancestor flowers in September and the last in March (in the Northern Hemisphere).
________________________________________________
ZYGOCACTUS OR SCHLUMBERGERA
Long ago Christmas cacti were called "Zygocactus". I myself used this term for a long time and would leave it as "computer laziness" on the old pages of my site. I will also continue to use it in file names, as it is the name that some Internet users use on search engines.

The term "Zygocactus" was introduced in 1890 by the German botanist Karl Schumann (probably because of the zygomorphic character of the flowers of almost all Schlumbergera).
However, it should be noted that Schlumbergera russelliana, with non-zygomorphic flowers, had been discovered and described more than 50 years before the term "Zygocactus" was created.
Since the appearance of phylogenetic taxonomy, other taxa with non-zygomorphic flowers have been included in the genus Schlumbergera, S. lutea for example.

The term "Zygocactus" is therefore currently obsolete.

From now on I will refer to Christmas cacti as Schlumbergera; the name comes from Charles Lemaire who dedicated the genus in question to the French collector Frédéric Schlumberger (1823-1893).



THE PHOTO GALLERY: CLASSIFICATION

I now invite you to discover the photos of all the Schlumbergera that have bloomed in my collection from autumn 2019 to spring 2020.
With a few exceptions, I have arranged the photos in chronological order of flowering.
Where this is mentioned in the reference books, I indicate the group to which it belongs:

Group Q (like Queen: Beatrix Orssich said: They are Queens)
for hybrids containing S. orssichiana in their pedigree and resembling it (or S. x reginae hybrids)
Group T for hybrids between S. truncata and S. russelliana and having serrated stems like those of S. truncata
Group B for hybrids between S. truncata and S. russelliana and having rounded stems like those of S. x buckleyi
Group TB for hybrids whose stems have an intermediate form between T and B, with predominance of T
Group BT for hybrids whose stems have an intermediate form between T and B, with predominance B
Group EP for S. russelliana x S. orssichiana hybrids. (S. x eprica hybrids)
These hybrids were obtained by Frank Süpplie of the EPRIC Foundation.


I leave you now in the company of the photos.


____________________________
CHAPTER 2
___________________________________________________
_________
__________________________