**** HYBRID HYLOCEREUS 'CONNIE MAYER' ****
__________________________________________
FIRST PART:
**** HYLOCEREUS: GENERAL POINTS ****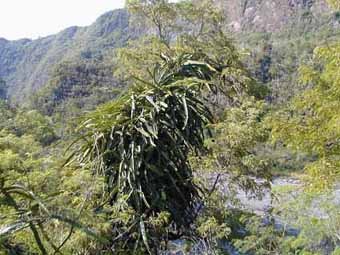 Hylocereus undatus naturalized on the Reunion Island
Etymologically, Hylocereus means "candle of the forests" since the word comes from the Greek "hulos": forest, and of Latin "cereus": candle.
Hylocereus undatus, cultivated on the trunk of a palm tree, in Morocco.
It's Hylocereus undatus which is used as stock in some grafts of cacti, in particular the grafts of cacti which lack chlorophyll, widely sold in the garden centers.
A mutant of Gymnocalycium mihanoviccii, which lacks chlorophyll, grafted on Hylocereus undatus
The genus Hylocereus is a genus of epiphytic or semiepiphytic cacti often climbing along the branches of trees or hanging down from these branches, air roots on the stems are also used by the plants to cling to tree trunks; these stems are usually of triangular section.
There are approximately fifteen botanical species of Hylocereus, distributed in Central America and in many islands of the Caribbean Sea.
Hylocereus are night bloomers ; most blooms are often white, one species though, has a red bloom.
Hylocereus is the genus which produces the famous "Dragon Fruit" or "Pitaya" or "Pitahaya" (link at the end of the page).
Dragon Fruits on a stall of a market in Hanoï
The best known species is Hylocereus undatus, widely present nearly everywhere in the intertropical area, and widely cultivated in Southeast Asia. The bloom is white and the edible fruit is precisely the Dragon Fruit.
Hylocereus stenopterus, originating from Costa Rica, has a red bloom.
The photographs below, are those of the hybrid "Connie Mayer", crossing between H. undatus and H. stenopterus.
Like all Hylocereus, flowering requires much heat and sun. It's difficult to observe it in the Paris region. I was lucky and I took pleasure to observe the bloom and to photograph it in the collection of a Parisian friend, Thierry Lefort. His collection is on a balcony on the seventh floor in the center of Paris.
________________________________________________
SECOND PART:
**** HYBRID HYLOCEREUS 'CONNIE MAYER' ****
2013 NEW PHOTOS
PHOTO 1/8
2002 GALLERIES ...................... 2003 GALLERIES ......................2004 GALLERIES
2005 GALLERIES ...................... 2006 GALLERIES ...................... 2007 GALLERIES
2008 GALLERIES ...................... 2009 GALLERIES ....................... 2010 GALLERIES
2011 GALLERIES ................. 2012 GALLERIES
THE DRAGON FRUIT or PITAYA or PITAHAYA